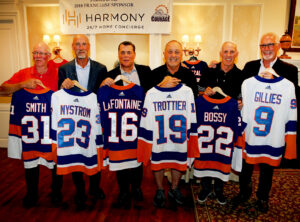 HUNTINGTON, NY, September 27, 2018  –  The 16th Annual Companions in Courage Foundation Golf Classic took on epic proportions when Pat LaFontaine decided to recognize all members of the New York Islanders selected last year for Hockey's 100, along with the members of the team who have had their number retired.
Huntington Country Club on Long Island was buzzing with excitement as Mike Bossy, Bryan Trottier and Bill Smith were joined by Bob Nystrom and Clark Gillies. (Earlier in the week, Denis Potvin stopped by to autograph items, since he would be in Florida to broadcast a Panthers' game on the day of the outing). The legendary group helped raise money and awareness for the organization that now serves almost 60,000 pediatric patients per year in hospitals throughout North America.
A record number of golfers teed it up on a perfect fall day, on a beautiful golf course. Michigan artist Paul Madden spent the day completing a commemorative original drawing of the five Islanders players voted to Hockey's 100. The piece would be auctioned at a spirited post-event dinner attended by 150.
The Islander legends participated in panel discussion that included remembrances of recently passed G.M. Bill Torrey and hilarious stories of the team's celebrating with the Stanley Cup. Mike Bossy took particular note of the charitable work conducted on Long Island, especially by his former teammates, Nystrom, Gillies and LaFontaine. Each foursome sponsor received a unique image of the retired Islander banners, personally autographed by each Islanders legend.
LaFontaine introduced 32 unique double magnum bottles of The Pinot Line – a Russian River Valley Pinot Noir – created in order to donate all proceeds to the foundation. Within a matter of minutes, he had raised more than $30,000 for the charity by offering the wine and autographed jerseys from each of the legends in attendance. Harmony Home Concierge Service served as Franchise Sponsor for the day and also contributed 100 gallons of home heating oil, and a 10,000-watt portable gas generator to the raffle. Sal Paterno of Milano Men's Fashion also generously contributed gift certificates to his Huntington men's clothing store. Joe McMahon of the McMahon Family  Foundation donated an autographed Matthew Barzal jersey that drew a lot of attention.
The day was filled with poignant moments, including traditional tributes (at Amen Corner) to CiC Foundation supporters who have passed on. The golf course, and later, the dining room was filled with a spirit and enthusiasm that is contagious and inspiring.
Tricia Hiller, Director of Child Life at Maria Fareri Children's Hospital at Westchester County Medical Center delivered a stirring keynote presentation on the importance of services like a Lion's Den Room in patient care.  Her hospital is the site of the first of the 20 Lion's Den Rooms that have opened across North America. Hiller brought tears to many eyes as she validated the value of the rooms to patients, their families and to healthcare professionals at the hospital.
In addition to the Islanders legends, LaFontaine also welcomed former teammates Ken Morrow, Brian Mullen and Benoit Hogue. The field of celebrities included former NBA star Wally Szczerbiak, his dad Walter Szczerbiak, and hockey's Pat Jablonski.
CiC Foundation board member Jerry Wood, was the overall champ on the course, shooting a 68. He won a match of cards over another member of his foursome, Clark Gavin . David Lehanski, from the NHL Foundation foursome, won the Long Drive contest with a bomb on Hole # 7, while Chris Thompson (5'2") won the Closest-to-the-Pin contest on Hole #12. Todd Carroll (in the net!) won the "Nearest-to-the-Net" contest on #18. Alex Kwiatkowski posted the Ladies' Low Score (87) to capture that trophy. Andi Husted of Phoenix won Ladies' Closest-to-the-Hole on 12, while Jacque Husted took the Ladies' Long Drive on #7.
The foursome of Wood, Gavin, Steve Fisher and Paul Mazzola took the low gross team honors with a score of 59. By three strokes, they bested the runner-up teams of Sean McAuley, Chris Thompson, Chris Montanaro and Rob Walter; along with Nick Patti, Jr., Mike Patti, Rob Ronne and Mike Whelan.
Many golfers took advantage of pre-round massage and stretching offered by Steven Login of Golf & Body. His Huntington shop features proactive physical therapy and wellness for men and women looking to remain active.
LaFontaine thanked the Franchise sponsor – Steve Goldman of Harmony Home Concierge service. He also thanked the Major sponsors that included Rob MacInnis, Striano Electric, Lombardi Design, NHL Foundation, Ferreira Construction, Sean McAuley, Jerry Wood, Delaney Contracting, Patti & Sons, Inc., TVR Communications, Unsung Siblings Foundation, Croatian-American Foundation, Discount Tire, Capital One Bank, Botto Mechanical, the Lake Placid Wreckers, Harbor Irrigation, Cameron Engineering & Associates, Paul Gillin, Soldier Design, Polymers-Merona, Valor Hockey and Sun Seven Stars Media.
LaFontaine also thanked Harmony Home for sponsoring the dinner, Jim Botto of Botto Mechanical for sponsoring the Caddies; John Cameron for sponsoring the Halfway House, Jerry Wood for sponsoring the Texas Hold'em Tournament;  Rob MacInnis for sponsoring the Premium Cigars; Andrew Cameron of BNB Bank for sponsoring the Driving Range.