HUNTINGTON, NY, September 28, 2023  –  Jim Johnson, Executive Director of the foundation set the tone for the evening when he reminded everyone in the room that they were only there due to a twist of fate (or faith).
He cited the unlikely way that Pat LaFontaine made his way to Long Island and the Islanders in 1983, and how he was introduced to teammate Lorne Henning's babysitter – Marybeth Hoey – forty years ago. That established his roots on Long Island and led to every attendee being on hand to celebrate 20 years of "assists" at this annual event.
Johnson added that later this year, the Companions in Courage Foundation will provide comfort and COURAGE to our 1 millionth patient! That provoked a rousing standing ovation.
LaFontaine took advantage of the opportunity to invite Pierre Turgeon to the event and honor him for his induction next month in the Hockey Hall of Fame. Turgeon played four years with the Islanders and retired as one of only 48 players to score 500 goals in his NHL career. In one of the biggest trades in NHL history, LaFontaine and Turgeon were traded for each other at the peak of their respective careers in 1991. LaFontaine presented Turgeon with an exclusive double magnum of his Pinot Line wine.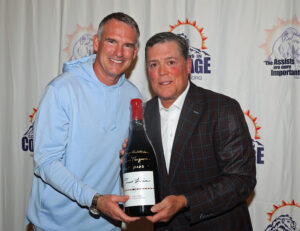 – SEPTEMBER 2023: (Photo by Mike Stobe)
Michigan artist Paul Madden created a one-of-a-kind commemorative original drawing featuring 11 of the greatest NHL Hall of Famers to ever attend the foundation's Golf Classic. In addition to images of each of the celebrities, the piece featured original autographs from each. Represented in the piece were LaFontaine, Bobby Orr, Bryan Trottier, Mike Bossy, Clark Gillies, Mark Messier, Brian Leetch, Brendan Shanahan, Gilbert Perreault, Marcel Dionne and Cam Neely.  Auctioneer extraordinaire, Shawn Parr, help the price for the piece soar at a spirited post-event dinner.
The day was filled with poignant moments, including traditional tributes (at Amen Corner and at the post-event dinner) to CiC Foundation supporters who have passed in the last year. New additions this year were Flo Gries (mother of Cheryl Gries Brown), Carl Girolamo (father-in-law of Greg DeRosa and former Islander Gerry Hart. Remembered with love were Clark Gillies, Mike Bossy, Jean Potvin, Rod Gilbert, Guy Lafleur, and friends of the foundation that included Rusty McCormick, Terry Sheerin, Tony Trombino, Danny Brown, and John LaFontaine.
The highlight of the dinner was when "Super Jack" Foley – a 12-year-old born with half a heart – talked about his relationship with LaFontaine, the foundation, and his special family relationship with cardiologist and executive board member Dr. Sean Levchuck. He concluded his poignant remarks by inviting Bob Nystrom to join him in presenting the 2023 Clark Gillies Pioneer Award to his favorite cardiologist.
Johnson provided a review of activities the foundation has participated in during the last year. He cited the delivery of 120 additional Chromebooks to patients in 30 hospitals, and 250 Stitches LaRoar dolls to patients in 20 hospitals. He talked about the foundation's relationship with the Heisman Trust that brought USC superstar Caleb Williams to Kravis Children's at Mount Sinai and across the Courage Network. He talked about how SMACNA had provided funding for technology donations made to several Long Island pediatric units. Finally, he announced that the first new Lion's Den Room in five years will be opened in early 2024 at Yale New Haven Children's.
LaFontaine welcomed former Islanders and teammates Bob Nystrom, Bryan Trottier, Butch Goring, Ed Westfall, Benoit Hogue, Pierre Turgeon and Randy Wood. The field of celebrities included former NBA star Wally Szczerbiak and his dad Walter Szczerbiak. Every participant received a copy of Trottier's new book, "All Roads Home." The Islanders legend provided a personal inscription and autograph in every book.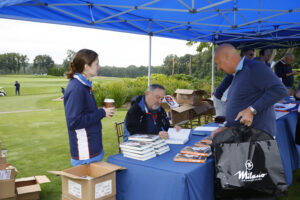 – SEPTEMBER 29: (Photo by Bruce Bennett)
Pat McCarthy posted the Men's Individual Low Gross (4-under), while Paul Mazzola finished just two strokes back. Melissa Barbour of SMACNA took the Women's Low Gross Award.
Tom Aboff, from the NFP Insurance foursome, won the Long Drive contest with a bomb on Hole #7, while Peter Ferrandino, Jr.  (8' 10") won the Closest-to-the-Pin contest on Hole #3. Austin Ryan of Northwestern Mutual won the "Nearest-to-the-Net" contest on #18.
The foursome from Unsung Siblings – that included Danny Ryan, Craig Hetherington, James Pace and Mike DelGiudice of "Big Shot" took the low gross team honors with a score of 62. They bested the runner-up team of The McAuley Family – Sean, Tim, Alec, Tony Giardina and Rob Walter by a single stroke.
Many golfers took advantage of the "Air Cannon" on Hole #15, sponsored by Scott Paternoster. The cannon would launch a tee shot about 350 yards on the par 5 hole and give every team a shot at eagle. Several golfers commented that the cannon should be an option on EVERY hole!
LaFontaine thanked the Franchise sponsors – Lombardi Design & Manufacturing, Hess Associates and One80 Intermediaries and Edward Hall Insurance. He also thanked the Major sponsors that included the Heagerty Family Foundation, Port View Leasing, Ferrandino & Sons Construction, Striano Electric, Delaney Contracting, the McAuley Family Foundation, Patti Spray Fireproofing, Simplifi Medical, Hilltop Securities, the Croatian-American Foundation, the Michael McCarthy Foundation, John Moran CPA, the Unsung Siblings Foundation, the Clark Gillies Foundation, SMACNA, Rob MacInnis, Bill Isenberg, Jerry Wood, Greg DeRosa, Steve Hoey, Scott Lohan, Tom Hildebrandt and Brad Johnson.
LaFontaine also thanked Steve Hess of Hess Associates for sponsoring the Cocktails and Dinner;  Jim Buzzetta of Mercedes of Huntington for sponsoring the Hole-in-One contest; John Cameron of Cameron Engineering for sponsoring the Brunch; Scott Paternoster of Chief Media for sponsoring the Driving Range and the Caddies; Jerry Wood for sponsoring the Texas Hold'em Tournament;  Rob MacInnis for sponsoring the Premium Cigars; and Fritz Masotta of Craftsmen Construction for sponsoring the Putting Green.
# # #