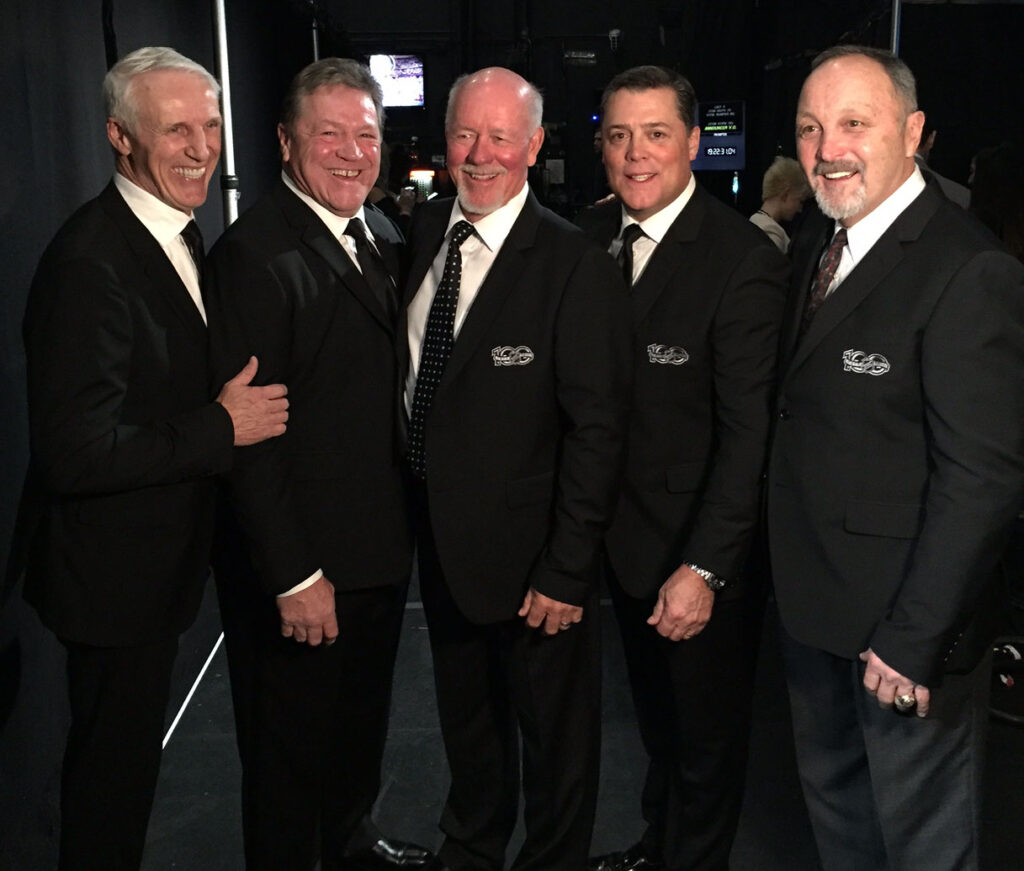 Classy, hard-working forward ranks fifth in goals among United States-born player
by Kevin Allen / Special to NHL.com    -January 27, 2017
The Pat LaFontaine era with the New York Islanders started with general manager Bill Torrey's disinformation campaign to hoodwink competitors into believing they weren't interested in him.
"I told my secretary that if [Minnesota North Stars general manager] Lou Nanne called, and asked where I was, to tell him I'm up in Rhode Island," Torrey said.
Nanne's Minnesota North Stars were tracking toward the No. 1 pick in the 1983 NHL Draft, and Torrey wanted Nanne to believe the Islanders rated Brian Lawton, a standout at Mount St. Charles Academy in Woonsocket, Rhode Island, ahead of LaFontaine and everyone else.
"I even gave a reporter an interview, and I said the kid in Rhode Island reminded me of Bryan Trottier," Torrey said with a laugh.
The North Stars drafted Lawton at No. 1 and the Hartford Whalers selected Sylvain Turgeon at No. 2, allowing Torrey to take LaFontaine at No. 3. The rest of the story is that LaFontaine blossomed into one of the more dazzling and productive players in NHL history.
"We always talk about Wayne Gretzky's vision and how he saw plays before they happened," Islanders broadcasting legend Jiggs McDonald said. "Patty had a degree of that, not to the extent that Wayne did, but very close."
Even before arriving in the NHL, LaFontaine, out of Waterford, Michigan, had created a buzz by scoring 104 goals in 70 games for Verdun in the Quebec Major Junior Hockey League. He also had 130 assists and won the league scoring title with 234 points — 50 more than Mario Lemieux.
"Some nights he would have three or four goals or five or six assists," Torrey said. "He had some nights that were unbelievable."
On Oct. 1, 1981, the Islanders traded defenseman Bob Lorimer and forward Dave Cameron to the Colorado Rockies because Torrey liked the 1983 draft class and believed there was a good chance the Rockies' spot could be the No. 1 pick. The Islanders had LaFontaine and Steve Yzerman ranked evenly until finally deciding LaFontaine was the best choice.
Torrey said he thought Yzerman's style might have fit the Islanders better, but he believed LaFontaine was more of a game-breaker.
At the time of the 1983 draft, the Islanders had won four Stanley Cup championships in a row.
"It was the rich getting richer," Nashville Predators general manager David Poile said. "It was like the Chicago Blackhawks getting Artemi Panarin after they won Stanley Cups."
LaFontaine scored 13 goals in his first 15 games when he joined the Islanders after playing for the United States in the 1984 Sarajevo Olympics. He scored 30 or more goals for eight consecutive seasons, from 1985-86 until 1992-93.
"I thought he could have played in the NHL the season before," said Lou Vairo, LaFontaine's Olympic coach in '84.
LaFontaine's NHL career average of 1.171 points per game in 15 seasons with the New York Islanders, Buffalo Sabres and New York Rangers ranks 15th (minimum 150 games played) and leads all United States-born players.
"He has extreme quickness," Torrey said. "Everything he did, whether it was making a move or deciding to shoot or not shoot, was at high speed and he had split-second timing that gave him an edge."
Older Islanders fans all remember LaFontaine's signature goal in Game 7 of the Patrick Division Semifinals on April 18, 1987. LaFontaine scored 8:47 into the fourth overtime to give New York a 3-2 road win against the Washington Capitals in the longest Game 7 in NHL history. The game, which lasted 6 hours, 18 minutes, is referred to as the "Easter Epic" because it was decided on Easter at 1:58 a.m.
Years later, LaFontaine recalled seeing people sleeping in the stands and hearing the theme from "The Twilight Zone" not long before beating goalie Bob Mason to end what is now the 10th longest overtime game in NHL history (68:47 of OT had elapsed).
"It was a bit of a knuckleball," LaFontaine said. "It was surreal."
Unfortunately for LaFontaine, his NHL story will always be remembered as much for its premature ending as his impressive accomplishments.
Because of concussions, LaFontaine played his last NHL game in 1998, at age 33. At the time he was still a productive player; he scored 23 goals in 67 games for the Rangers in his final season. Two seasons earlier, LaFontaine had 40 goals and 91 points with the Sabres.
Mike Modano has the most NHL points (1,374) by a United States-born player. LaFontaine is eighth, 361 points behind him with 1,013, but played 634 fewer games. No one in the top 10 played fewer games than LaFontaine's 865.
"For sure Pat LaFontaine would have gone down as the all-time points leader [among United States-born players] had he not been hurt," said former NHL forward Jeremy Roenick, third on that list with 1,216 points. "None of us would have been able to catch him."
Many more of LaFontaine's contemporaries agree. It is anything but a stretch to believe that he could have easily topped 600 goals; he scored 468, fifth among United States-born players.
"He was a cerebral player, like a Jean Ratelle or a Jean Beliveau," Poile said. "There are certain things you want in a centerman. You want speed, vision, hockey sense, defensive ability, scoring ability. What didn't LaFontaine have? He was an all-around top player in all situations."
In LaFontaine's best season, 1992-93, he scored 53 goals and had 148 points for the Sabres. He had 95 assists and helped Alexander Mogilny score 76 goals.
"Wouldn't he be a No. 1 center on any NHL team today?" Poile said. "He was that good."
Former NHL defenseman Tom Laidlaw said LaFontaine added another layer of danger to the already potent Islanders lineup because of his speed.
"We were used to playing the Islanders, and all of sudden they had this young kid and he's blowing by me," Laidlaw said. "He came through the neutral zone so fast. My first reaction was, 'OK I have to run this guy, to scare him.' I got him pretty good, but it didn't bother him."
During the 1996-97 season, the 5-foot-10 LaFontaine sustained one of multiple concussions in his career, on a hit by 6-foot-6 Pittsburgh Penguins defenseman Francois Leroux. He was limited to 13 games that season.
On March 16, 1998, he sustained another concussion on a collision with a teammate. He followed his doctor's recommendation and retired that summer.
"I always said if it got to the point where there was more than minimal risk I would stop playing, and it got to that point," LaFontaine said.
He had suffered from a variety of concussion symptoms, including depression. Since his retirement, LaFontaine has been involved in considerable charity work and has often spoke publicly about the dangers of concussions.
McDonald said he never saw LaFontaine make a selfish play, and that he contributed plenty on defense as well.
"He was so gifted in every aspect of the game," McDonald said. "But he never lost sight of the defensive side of the game. He played both ends of the ice as well as anyone."
He also was a marketer's dream because of how he carried himself on and off the ice. He was the All-American boy, and always said the right thing.
"As a teammate, I would challenge you to find a nicer person than Patty LaFontaine," said former NHL forward Bill Guerin, LaFontaine's United States teammate.
LaFontaine may have had good looks, but he was no pretty boy on the ice.
"Patty had incredible skating and incredible hands," Guerin said. "But what I remember is how he played in traffic, the way he would go to the net and take on defensemen. He was not a perimeter player by any stretch."
LaFontaine, a 2003 Hockey Hall of Fame inductee, is considered a member of American hockey's greatest generation, a contemporary of players like Modano, Roenick, Guerin, Mike Richter, Keith Tkachuk. But he also served as an inspiration for them because he was establishing himself as an American star when they were at impressionable ages.
When LaFontaine broke into the NHL, Tkachuk was 11, Guerin was 13 and Roenick 14.
"He was scoring at a crazy rate when I was growing up," Guerin said. "We couldn't watch that many games back then, but we read the papers. We knew what was going on with him. He was on our radar."
When LaFontaine was drafted, NHL teams were still in the early stages of accepting that American players would have the same impact on the game as Canadian players. Lawton was the first United States-born player to be drafted No. 1. That LaFontaine was taken at No. 3 just made that story bigger.
"Pat received a lot of publicity," Torrey said. "He was very photogenic. He had a great personality. He was very humble. And he was very exciting to watch play. He was the complete package."