For almost 40 years, Pat LaFontaine has been a resident of Suffolk County in New York. On Thursday, May 18, LaFontaine was inducted into the county's Sports Hall of Fame in a ceremony at Eastwind in Wading River.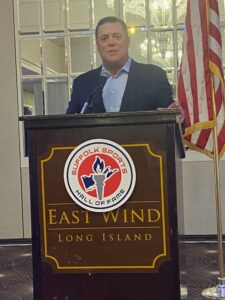 LaFontaine – born in St. Louis and raised in Michigan- had a 15-year NHL career in which he never left the state of New York. He started with the Islanders in 1983, later played in Buffalo and finished his career with the Rangers.  In 2017, LaFontaine was selected as one of the top-100 NHL players of all time. In 2003, he was elected into both the Hockey Hall of Fame in Toronto and the U.S. Hockey Hall of Fame in Minnesota.
The hockey star was introduced by longtime News12 sports anchor Kevin Maher. He said, "Pat is a hall-of-famer in every sense of those words," and cited LaFontaine's commitment to the community through the Companions in Courage Foundation and his work at the NHL in creating the Declaration of Principles.
The hockey star spoke for all the inductees when he reflected on how sports is a steppingstone in life for many athletes. He advised, "Score all your goals early, because later in life, it's all about the 'assists." He noted the attendance of local hockey legend and Suffolk Sports Hall of Fame member Buzzy Deschamps. He said the former Long Island Duck hockey star has done more to promote the game of hockey on Long Island than anyone he knows.
But LaFontaine saved his most touching remarks for the family of ALS pioneer Chris Pendergast. Noting that his son-in-law is suffering from "Lou Gehrig's disease," LaFontaine talked about what an inspiration the Pendergast family had been to his family. In 1993, Chris Pendergast was given the diagnosis that he would not survive three years. Twenty-eight years later, he finally succumbed to the disease, but not before raising millions of dollars for ALS Research.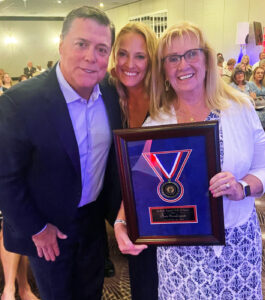 Former Islanders teammates who have previously been elected to the Suffolk Sports Hall of Fame include Clark Gillies and Gerry Hart. LaFontaine noted their recent passings and cited them, along with fellow Islanders alumni Ed Westfall, Bryan Trottier and Bob Nystrom for inspiring the then 19-year-old to get involved with community service when he joined the team. In addition to providing resources to the Child Life Services staff at every children's hospital on Long Island, LaFontaine's charity is now delivering resources to 150 (of the 220) children's hospitals across North America. More than 60,000 pediatric patients stay connected to their family, classmates and heroes each year through (www.CiC16.org)
LaFontaine and his wife Marybeth raised their three children in the Huntington area. Even when he was traded to Buffalo and then the Rangers, the LaFontaines maintained a residence in Montauk.
Suffolk Sports Hall of Fame President Chris Vaccaro said of the hockey star, "Hockey legend and Huntington resident Pat LaFontaine knocked it out of the park with his speech about the power of community and sports. What a great addition he is to our Hall."