HUNTINGTON, NY, September 29, 2022  –  After a year that saw the loss of almost a dozen friends and family, more than 130 golfers convened at Huntington Country Club today to celebrate their lives at the 19th Annual Companions in Courage Foundation Golf Classic.
It had been exactly one year since Clark Gillies had lit up the foundation's post-golf dinner with his unique blend of jokes and storytelling. Following his teammate's passing, LaFontaine singled out Gillies for special recognition this year.  Noting Clark's commitment to helping pediatric patients, the assembled group helped raise money and awareness for the organization that now serves almost 60,000 pediatric patients per year.
A record number of golfers teed it up on a perfect fall day. Michigan artist Paul Madden created a one-of-a-kind a commemorative original drawing featuring Gillies and friend Bob Nystrom hoisting the Stanley Cup. The piece would be auctioned at a spirited post-event dinner.
The day was filled with poignant moments, including traditional tributes (at Amen Corner and at the post-event dinner) to CiC Foundation supporters who have passed in the last year. Remembered with love were Gillies, Mike Bossy, Jean Potvin, Rod Gilbert, Guy Lafleur, and friends of the foundation that included Rusty McCormick, Terry Sheerin, Tony Trombino, Danny Brown, and of course, John LaFontaine – who had passed away just one week earlier.
The highlight of the dinner was when Pam Gillies joined LaFontaine in recognizing Bob Nystrom with the inaugural Clark Gillies Pioneer Award. There were not many dry eyes in the as "Mr. Islander," reflected on just what Gillies' friendship meant to him in his career and life.
Lu Borges, a Child Life Specialist from Kravis Children's Hospital at Mount Sinai in New York shared a few stories about how his staff managed to care for patients throughout the pandemic. He said, "I don't know how we would have gotten through the last two years without resources provided by those in this room." He touted how the hospital's Lion's Den Room served as a safe haven for patients, staff and parental consultations. He noted that Pet Therapy, Music Therapy, Arts and Crafts and all schoolwork administered from outside staff had to be curtailed during COVID restrictions. The Chromebooks the Companions in Courage foundation provided, and the content of our Mane Event podcasts saved their day. Borges also emphasized that that resource was replicated in hospitals throughout North America that the foundation supports.
LaFontaine welcomed former Islanders and teammates Bob Nystrom, Butch Goring, Ed Westfall, Benoit Hogue, Steve Webb and Randy Wood. The field of celebrities included former NBA star Wally Szczerbiak, his dad Walter Szczerbiak, and Pam Gillies.
Mike Madden posted the Men's Individual Low Gross (6-under), while Tom Milana finished just two strokes back. Michelle Martucci of Green Cube Technologies took the Women's Low Gross Award.
Brad Gruber, from the Accolade Maintenance foursome, won the Long Drive contest with a bomb on Hole #7, while Adam Frimmer (13"!) won the Closest-to-the-Pin contest on Hole #3. Will "The Thrill" Isenberg escaped Hurricane Ian in Florida and won the "Nearest-to-the-Net" contest on #18.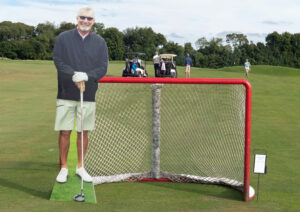 The foursome from J.C. Steel – that included Kris Amplo, Leo Giaquinto and Joe Macina took the low gross team honors with a score of 57. They bested the runner-up team of LaFontaine, Nystrom, Westfall and Webb. LaFontaine reported that Nystrom had about a 10-footer for birdie on the 18th hole. He asked, "What's our team score?" When told they were 9-under – Nystrom noted the significance of the score matching Clark Gillies' uniform number – and proceeded to purposely miss the putt by 2 feet. He said, "And 9-under we shall stay!"
Many golfers took advantage of the "Air Cannon" on Hole #15, sponsored by Scott Paternoster. The cannon would launch a tee shot about 350 yards on the par 5 hole and give every team a shot at eagle. Several golfers commented that the cannon should be an option on EVERY hole!
LaFontaine thanked the Franchise sponsors – NFP Corporation, Hess Associates and Northwestern Mutual. He also thanked the Major sponsors that included the Heagerty Family Foundation, Port View Leasing, Ferrandino & Sons Construction, Striano Electric, Delaney Contracting, the McAuley Family Foundation, Patti Spray Fireproofing, G2D Development, J.C. Steel Corporation, Mercedes Benz of Huntington, Green Cubes Technology, Accolade Building Maintenance, Adam Maib, Rob MacInnis, Bill Isenberg, Jerry Wood, Greg DeRosa and John Moran.
LaFontaine also thanked John Cameron of Cameron Engineering for sponsoring the Halfway House; Maddie and Carl Lombardi for sponsoring the Caddies; Jerry Wood for sponsoring the Texas Hold'em Tournament;  Kris Amplo and Rob MacInnis for sponsoring the Premium Cigars; and Jim Buzzetta of Mercedes Benz of Huntington for sponsoring the Hole-in-One competition.
# # #