Condolences to Pat LaFontaine and his family on the passing of his dear dad, John D. on September 20. Mr. LaFontaine was a giant in life and in industry. He was regarded as Lee Iacocca's right hand man at Chrysler, and rumor has it that he was a pretty good hockey coach. He was a throwback to a time and place that made this country great. He will be missed by all of us who had the pleasure of being in his company. A man of great faith, he will finally get to join his beloved Giselle (Jay) in eternity.
His pulse runs through the Companions in Courage Foundation every day. He loved his family more than anything, so perhaps it's fitting that his legacy might include connecting pediatric patients with their families.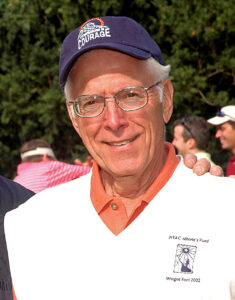 https://donate.cic16.org/campaign/chromebooks-4-kids/c424390 
LAFONTAINE, JOHN D. formerly of Waterford; passed away peacefully at Village Park in Milton, Georgia, on September 20, 2022; age 84; Devoted husband of the late Gisele "Jay"; Cherished father of John (Lorrie), Pat (Marybeth) and Rene (Doug) Adler; Beloved grandfather of Jean-Paul, Monique (Teddy), Sarah, Brianna (Randel), Dan (Natasha), Sam, Danielle and Quinn; Proud great-grandfather of Patrick.
John was born in Tecumseh, Ontario, on May 29, 1938 to Joseph "Bud" and Irene LaFontaine. He was the second of seven boys, the late Richard (Connie), Fred (Patricia), Paul (the late Jeanne), Gordon (Ilene), Mike (the late Maureen) and Dan (Mary Jane). The family eventually moved to Berkely, Michigan. John graduated from Shrine Catholic High School in 1956. He married the love of his life, Gisele "Jay" LaPierre, on February 16, 1963. John enjoyed a 33 year career at Chrysler, which included a ten year stint in St. Louis, Missouri, and then back to Detroit. He eventually became plant manager and over saw many Chrysler facilities, including Windsor, Ontario.
After retiring, John and Jay moved to Nashville, Tennessee, where he worked an additional two years for Nissan's manufacturing plant in Murfreesboro, Tennessee. Jay passed away from heart disease on July 18, 2004. John continued to travel and visit his three children and their families. Mr. LaFontaine served in the National Guard and was a long-time member of St. Perpetua Catholic Church. The Funeral Mass will be held on Tuesday, September 27, 2022 at 11:00 a.m. at St. Perpetua Catholic Church, 134 Airport Road, Waterford. The family will receive friends on Monday from 4 to 8 p.m. at the Riverside Chapel, Simpson-Modetz Funeral Home, 5630 Pontiac Lake Road, Waterford, and at the church on Tuesday 10:30 a.m. until time of Mass. Rite of Committal All Saints Cemetery. Memorials may be made to Companions in Courage www.CiC16.org or to the Alzheimer's Association.