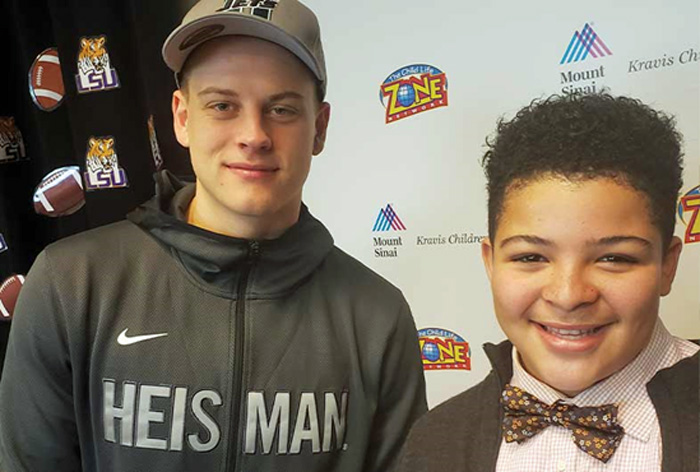 Feb 24, 2020 | Asthma, Featured, Patient Stories |
Patients and families at the Child Life Zone at Mount Sinai Kravis Children's Hospital received a special visit on Sunday, December 15, from Joe Burrow, just a day after he was named the 2019 Heisman Trophy winner. The Louisiana State University quarterback hosted a special trivia-themed episode on KidZone TV, answered questions, opened up about his personal life and adversity, and provided inspiration to patients and their families in an appearance made possible through the Companions in Courage Foundation.
Mr. Burrow also signed football keepsakes for the patients, much to the delight of one 13-year-old patient, Ryan Diaz, an aspiring football player himself. Ryan already has helped his Harlem Jets youth football team win two championships—no easy feat for this offensive guard and center who happens to have severe asthma.
"He has had asthma since he was a baby, and he has been in and out of the hospital," recalled his mother, Christina Ortiz. "He would miss up to 18 days a year of school." Added Ryan: "It was really hard. I would miss so many things because I couldn't control my asthma. I struggled so much from something I didn't cause."
"We have many, many patients like Ryan with severe asthma," said Alfin G. Vicencio, MD, Vice Chair for Clinical Affairs and Strategy, and Division Chief for Pediatric Pulmonology at Kravis Children's Hospital, who started treating Ryan in September 2018. "He has multiple triggers, and it's hard to isolate one thing, so what is your recourse, stay inside a bubble?"
Dr. Vicencio is primarily treating Ryan with an injection of omalizumab, a monoclonal antibody, every two weeks. "This medication targets very specific molecules that are important in the asthma-inflammation cascade," said Dr. Vicencio. The treatment acts to decrease the number of sudden episodes of wheezing, shortness of breath, and trouble breathing in individuals whose symptoms are not controlled with inhaled steroids.
"Mount Sinai has a very active program for the diagnosis and treatment of children with severe asthma," said Dr. Vicencio. "This includes some important research initiatives that are starting to identify new subtypes of asthma, some of which may be driven by unsuspected infections."
Other components of the research program, he added, are starting to identify new genes in the airway that may contribute to severity. This is part of a collaborative project with Supinda Bunyavanich, MD, MPH, MPhil, Professor of Pediatrics, and Genetics and Genomic Sciences, aimed at finding new therapeutic targets for patients with severe disease.
Following this protocol has allowed Ryan to keep active—except for when he was sidelined for two weeks in February with the flu and pneumonia. He is now able to resume his strenuous four-hour weekend football workouts and continue his participation in a dance and theater program.
Throughout it all, he has excelled in middle school, which has earned him an academic scholarship to Archbishop Stepinac High School in White Plains, New York, a football powerhouse.
"I just love football," said Ryan, whose father, Juan Diaz, a registrar in Mount Sinai's Institute for Advanced Medicine, played football for George Washington High School in New York City and has been a coach for the Harlem Jets since 2013. "It is a bond," said Ryan.
Mr. Burrow is now certainly part of this bond, too. "It was really inspiring to speak with someone of that caliber," said Ryan. "We talked about football, staying in school, and doing your best. One thing that made me proud—he signed my football jersey, and I gave him a signed Ryan Diaz #74 Harlem Jets hat, which he wore for the entire event."
As for the football that Mr. Burrow signed, Ryan said he no longer has it. "We decided to give it to Dr. Vicencio because he has done so much for me. He let me lead a normal life. He really likes football, and I felt he really deserved that," said Ryan. "I felt very, very touched," said Dr. Vicencio. "I told Ryan that when he is in the National Football League, I will ask for one of these signed by him."