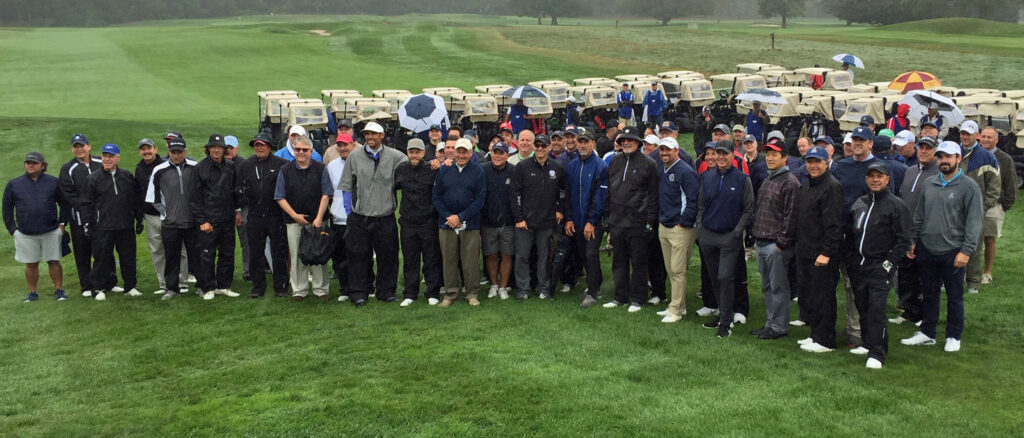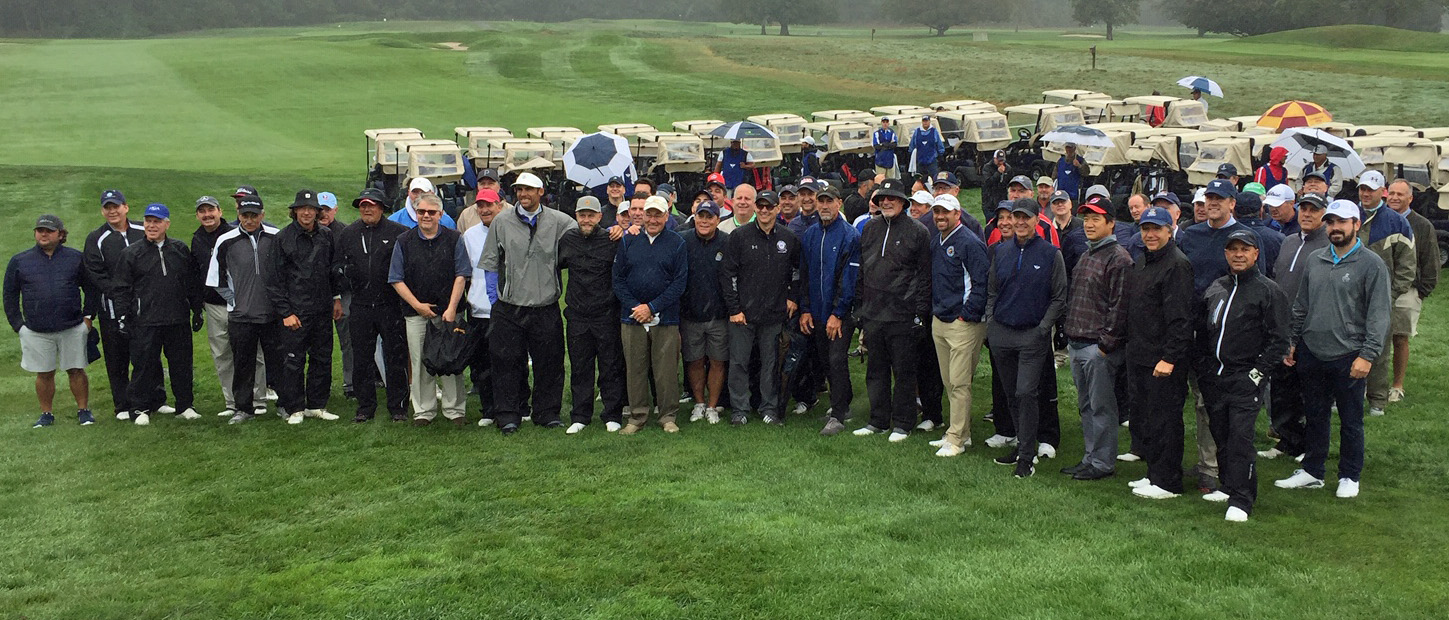 HUNTINGTON, NY, October 3, 2019  –  The 17th Annual Companions in Courage Foundation Golf Classic was played in an "Irish Mist." That inspired Huntington Country Club Pro Jim Smoot to announce, "Gentlemen. People pay a lot of money to go to Scotland to play in weather like this. We're throwing it in today for free!"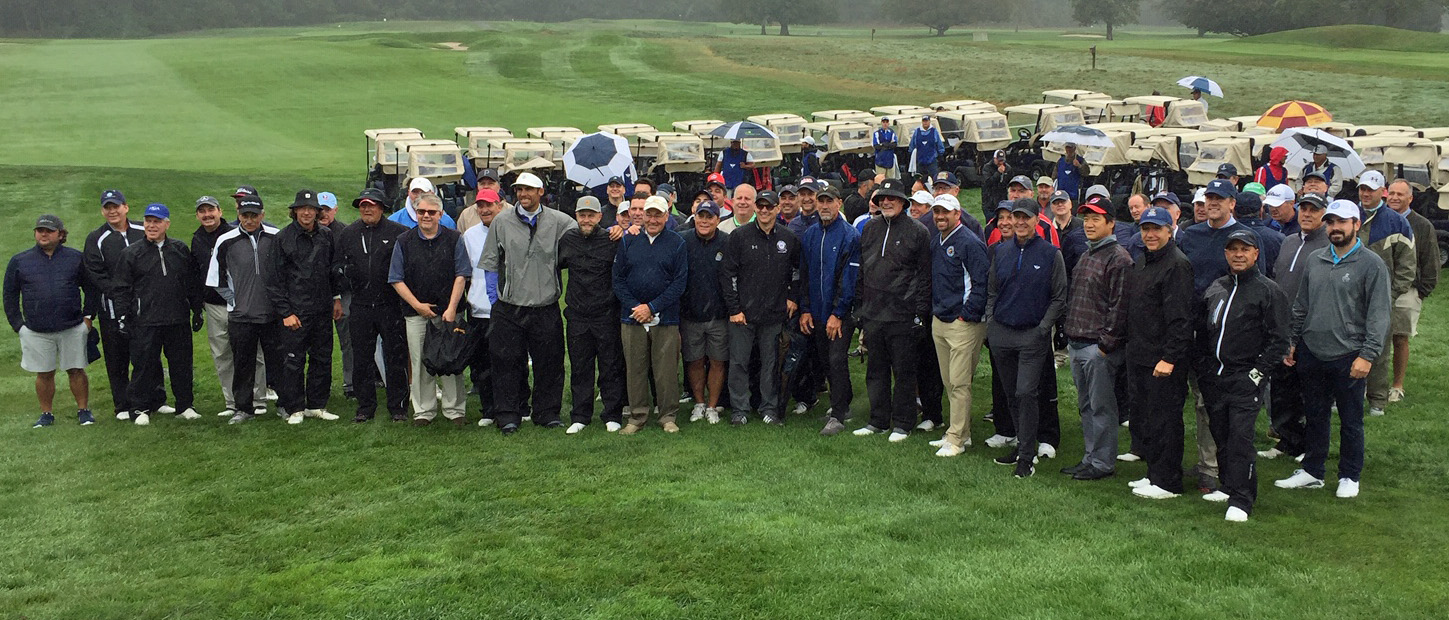 Undaunted, more than 120 golfers teed it up in support of pediatric patients and their families who benefit from the work of the Companions in Courage Foundation. Host Pat LaFontaine was joined by former teammates, Clark Gillies and Bob Nystrom. Hockey's Eddie Westfall, Benoit Hogue and Pat Jablonski led a host of other celebrities that included the NBA's Wally Szczerbiak, the NFL's Marty Lyons, and soccer star Mike Grella.
Michigan artist Paul Madden spent the day completing a commemorative original drawing featuring LaFontaine in front of the U.S. Capital surrounded by youth hockey players. The hockey star was recently elected to the President's Council on Youth Sports, Fitness and Nutrition.
LaFontaine recognized Westfall – the team's first captain – for being an underrated contributor to the team's legacy. He said that Westfall brought the Boston Bruin's championship culture to Long Island and deserved a lot of credit. Westfall joked that he was Long Island's first ATM machine. He said, "all these young guys coming to Long Island would run out of money. They'd come to the old man in the room and I'd have to cover them until the end of the month." The former captain then acknowledged all of the guests in attendance. He told them that they were the most important people in the room – not the former pro athletes – because of their commitment to benefit children in need.
LaFontaine and the foundation's executive director, Jim Johnson introduced treasurer Carl Lombardi as the 2019 Pioneer Award winner. Lombardi stepped in when former treasurer Roger Simon resigned the position last year. Not only did he maintain the books for the foundation, he also worked to secure the donation of 3-D printers for a pilot program at local hospitals.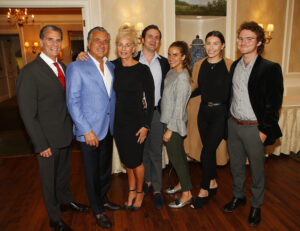 Lombardi's family surprised him at the post-round dinner. He told everyone that , it just feels right," to be doing this and he's proud to be associated with LaFontaine and the charity.
LaFontaine sent thanks to all of the sponsors, but particularly to Lombardi and to Mike Heagerty of Edward E. Hall Insurance who both served as FRANCHISE sponsors for the day. Richard Pluta and his family sponsored the cocktail hour and dinner that was enjoyed by all.
The day was filled with poignant moments, including traditional tributes (at Amen Corner) to CiC Foundation supporters who have passed on. The golf course, and later, the dining room was filled with a spirit and enthusiasm that is contagious and inspiring.
Johnson presented a "year in review" that featured images of the 2018 Santa Connection and Heisman Trophy (Kyler Murray) visit to Mount Sinai Children's Hospital. He also spoke about the foundation's association with the Cradle of Aviation Museum and live Google Hangouts with Apollo and International Space Station astronauts. In 2018, the foundation did a complete make-over of the Lion's Den Room in Wolfson Hospital in Jacksonville. The foundation recently expanded their relationship with Google and accepted the donation of 20 Pixel Slates for distribution to children's hospitals.
The presentation closed with a personal video shot by New Jersey Devils star P.K. Subban that he sent to a patient in a local hospital. The impact of LaFontaine's work was palpable in the room when the emotional video concluded.
The live auction featured unique golf experiences donated by Nick Patti (Liberty National); Garrett Bodington (Sebonac Golf Club); and Bill Talmage (Friar's Head Golf Club). Sal Paterno of Milano Fine Men's Fashion in Huntington Station generously donated a custom suit, and this auction featured one of the most unique items we've ever offered. Paul Madden has been collecting the signatures of Hall of Fame hockey players for more than 25 years. His jersey was authenticated and signed by more than 133 Hall of Famers, including Wayne Gretzky, Gordie Howe, Bobby Orr, Mario Lemieux and Guy Lafleur. A spirited auction was held for this one-of-a-kind item and his generosity led to a windfall for the foundation.
Due to the weather conditions, the outing was held as a full team scramble. The foursome of Mike Heagerty, Greg Heinssen, Mike Dischmann and John Catapano took the low team honors. They bested the runner-up teams of Mike Matura, Zoran Grgas, Vinnie, Naletilic and Damir Penava; along with John Kiernan, Tony Trombino, John Shea and Don Krause.
Many golfers took advantage of pre-round massage and stretching offered by Kerri Winans Kaley of StretchLab in Woodbury. Her Woodbury shop on Jericho Turnpike is revolutionizing one-on-one assisted stretching and flexibility training classes. In their innovative group sessions – no matter what your range of motion or fitness level , they can help. Their group stretches are Flexologist-led and will help to increase flexibility and improve range-of-motion.
LaFontaine thanked the Major sponsors that included Rob MacInnis, Striano Electric, Jerry Wood, Delaney Contracting, Patti & Sons, Inc., Croatian-American Foundation, Harbor Irrigation, Cameron Engineering & Associates, Paul Gillin, Siemens, G2D Development, Mercedes Benz of Huntington, Gundermann & Gundermann, Heagerty Family Foundation, IRC Securities and J.C. Steel Corporation.
LaFontaine also thanked the Pluta Family for sponsoring the cocktail party and dinner, Jim Buzzetta of Mercedes Benz of Huntington for sponsoring the Hole-in-One contest; John Cameron of Cameron Engineering for sponsoring the player's gifts, Sean McAuley and the McAuley Family Foundation for sponsoring the Putting Contest, Jerry Wood for sponsoring the Texas Hold'em Tournament;  Rob MacInnis for sponsoring the Premium Cigars; Andrew Cameron of BNB Bank for sponsoring the Driving Range.
Finally, an event of this magnitude cannot happen without the tremendous efforts of our volunteers: Cheryl Brown, Mia Gillin, Chris Crean, Dan Edwards, Wayne Scarpetta, Joe and Pete Johnson. Their boundless energy and enthusiasm brightened a dreary day and ensured that no child in the fight for life or health should have to go through it alone.