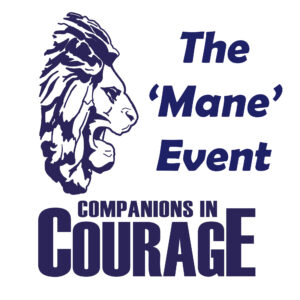 New Series Inspires and Educates Pediatric Patients
HUNTINGTON, NY, April 2021  –  The Companions in Courage Foundation announced today that their weekly series, The 'Mane' Event is now available on iTunes, Spotify and on PodBean.
The 'Mane' Event is a series of short inspirational videos  featuring people who have overcome challenges , designed to motivate pediatric patients to get well. Videos drop every Thursday and include a handout that Child Life Specialists can use to guide patients through each story and to evoke conversation about how the stories relate to their  treatments.
Isolated by COVID restrictions, these kids need inspiration now more than ever. Initial stories in the series have featured  Special Olympian Chris Nikic – the first person with Down Syndrome to complete an Ironman Triathlon; Patrick Harten – the air traffic controller who helped guide Captain Chesley "Sully" Sullenberger to a safe landing on "The Miracle on the Hudson;"  Kyle Merber – an American middle distance runner who overcame a serious injury to set a world record; and Clinton Brown III, a little person with Diastrophic Dysplasia who overcame all odds to lead a life of service on behalf of Little People.
Future stories will include similar inspirational achievements by the famous and not-so-famous.
To support this effort and to suggest future story ideas, please visit
https://www.classy.org/campaign/the-mane-event/c340880 
The 'Mane' Event can be accessed at:
iTUNES: https://podcasts.apple.com/us/podcast/the-mane-event-podcast/id1563434029
Spotify: https://open.spotify.com/show/5aUv7iUElgdT6EJXRjSVKC
PodBean: https://courage16.podbean.com/
YouTube: https://www.youtube.com/user/CiC16TV