HUNTINGTON, NY, July 5, 2021  –  Pat LaFontaine announced today that Chris Andricopoulos – Managing Director with Northwestern Mutual in Connecticut – has been added to the Executive Board of Directors of Companions in Courage Foundation.
The foundation president said, "Chris has demonstrated a passion for helping those in need – particularly ensuring that pediatric patients have a better time of it. We are really pleased that he has accepted our offer to join the executive board."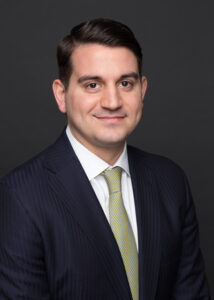 Andricopolous, Managing Director of the firm's Norwalk office,  was introduced to the work of Companions in Courage by staff who have a connection to Connecticut Children's Medical Center in Hartford. The Masotta Family Fund worked with the foundation to build a Lion's Den Room at that hospital in  2017. Two members of the Masotta Family  work with Andricopoulos in the Norwalk office.
"I look forward to the opportunity to serve on the board of CIC.   Joining this wonderful organization, I am excited to make an immediate impact in the lives of pediatric patients and their families locally, and we are eager to begin planning, hosting and participating with the CIC community. My wife, Kelly and I both have seen   first-hand the importance of support when your child is in the hospital and we are thrilled for the opportunity to give back. We are ready to roll up our sleeves and start making a real difference. Thank you  Pat and Jim for this amazing opportunity."
Jerome Wood, a former Managing Director at Morgan Stanley and a member of the foundation executive board echoed the sentiment of current board members . "Chris is a terrific addition to the group. We welcome his enthusiasm toward making a difference in the lives of pediatric patients and their families."
Andricopoulos is a graduate of Lehigh University and is a member of Northwestern Mutual's Diversity and Inclusion Council. Chris and his wife, Kelly, have been involved in a number of charitable efforts with ties to children. They have    three boys, Liam, Brodie and Cooper.
Northwestern Mutual is the marketing name for The Northwestern Mutual Life Insurance Company (NM) and its subsidiaries in Milwaukee, WI. . Chris Andricopoulos is a District Agent of NM.